The NiCad battery pack is suitable for both the Excalibur II 800 and 1000 detectors. Fully sealed and waterproof to 250ft depth, this battery provides a cost effective way of seraching for hours.
---
This battery pack holds 8 x AA alkaline batteries for the Excalibur 800 or 1000. This battery pack is ideal to have in the car as a spare in case your rechargable NiCAD pack runs out of power. (Batteries not included.)
---
The Koss headphones have been custom built for Minelab. These excellent headphones give you a crisp clear signal, very soft padded ear muffs that eliminate outside noise and are very comfortable to wear all day long. Supplied with a curly cord for safe flexible length. These are great headphones for any metal detector, you'll need to try them out yourself and see how well they work. I use them all the time on my metal detectors! (click on the photo for a larger view of the headphones)
---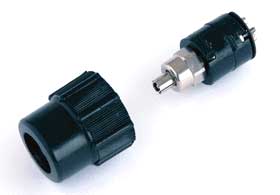 The Excalibur adaptor plug converts the standard battery lead plug on the 240v charger or 12 volt vehicle charger, into the three pin screw plug that fits the Excalibur battery pod.
---
The Excalibur Hipmount Kit can be used with either the 800 and 1000 models. This kit allows the control box to be removed from the stem and hip mounted around the waist. Very comfortable and ideal for swimming or wading.
---
This newly redesigned carry bag is suitable for all of Minelab's detectors. This tough padded bag is ideal for storing and transporting your Minelab detector. Extra width at the front of the bag will allow it to fit up to an 18" coil.
---