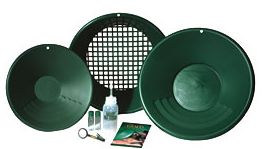 This Garrett Gold Panning Kit includes a 10" and a 14" gold pans, one Garrett Classifier pan, one Gold Guzzler, Tweezers, two gold vials, and the book, Find an Ounce of Gold a Day, by Charles Garrett. The Garrett Classifier pan is a filtering device, typically found at the head of a sluice, which helps prevent rocks and other large debris from falling into a gold pan.
Gravity Trap Gold Pan Kit

Makro Racer Gold Prospecting Metal Detector
Built on the cutting-edge RACER technology, the Gold RACER metal detector offers advanced gold prospecting capabilities. Operating at 56 kHz frequency, the Gold RACER detects the tiniest gold nuggets while ignoring harsh ground conditions and hot rocks in gold fields around the world. Standard Package Includes: GR26 (26cmx14cm - 10'' x 5.5" DD Search Coil), Headphones, 4 x AA Alkaline Batteries.
The GMT is White's "Goldmaster" — used in goldfields around the world! This detector ignores the harsh ground found in gold-bearing areas to simplify prospecting and find nuggets large and small, and coins, too.
The GMT is made for gold country, with 48 KHz operating frequency — the best for gold — and a waterproof search coil that's ready for streams and rivers.
High-end features like the iron target analyzer make hunting easier. Manual controls are available for advanced users, and each option includes a recommended initial setting.
Also onboard: variable self-adjusting threshold, Grab Pushpad for setting ground balance instantly, automatic ground balance, and "Follow the Paystreak" feature, which displays the amount of magnetic minerals in the ground.
Find elusive sub-gram nuggets on land & underwater!
SDC 2300 Gold Prospecting Detector
The SDC 2300 is a high performance mid-range gold detector, perfect for chasing down those elusive sub-gram nuggets on land and underwater. This compact waterproof detector comes with easy-to-use controls and is assembly-free.
Minelab GPZ 7000 Gold Prospecting Detector
Minelab are delighted to announce the most eagerly anticipated GOLD detector, the industry leading GPZ 7000.
The GPZ 7000 represents the future of Gold detection! The product is currently in the process of a phased release plan across Gold Mining markets.
The GPZ 7000 takes GOLD detection technology to a whole new level with market leading performance
and new technological innovations from Minelab – the company that knows GOLD!
Minelab GPX-5000 Gold Prospecting Metal Detector
The GPX 5000 sets the new benchmark in gold detecting technology. With an amazing range of features and functions the GPX 5000 is not only superior to its predecessor, the GPX-4500, and is in a class of its own. Featuring Minelab's exclusive technologies, Multi Period Sensing (MPS), Dual Voltage Technology (DVT) and Smart Electronic Timing Alignment (SETA), the high performance GPX 5000 is capable of finding more gold than ever before.
Minelab GPX-4500 Gold Prospecting Metal Detector
NEW LOWER PRICE.... $2699.00